You Might Like This Book If You…
Like magical realism.
Have struggled with depression or suicidal thoughts.
Enjoy coming-of-age books with characters straddling two cultures.
Are an artist or a fan of art.
The Story (NO SPOILERS!)
"My mother is a bird. This isn't like some William Faulkner stream-of-consciousness metaphorical crap. My mother. Is literally. A bird."

I fell for those opening lines. I'm not a huge fan of "edgy" teen voices in my YA books; despite these opening lines, know that Pan's style is more lyrical than the "hardcore, eyelined badass" voice that is so popular these days.

Before going further, I need to warn you: This is an emotionally heavy book. But it is absolutely beautiful.

Emily X.R. Pan uses magical realism to explore grief after a parent's suicide. The story begins with Leigh's mom's death. Soon after the funeral, a red bird appears to Leigh, speaking with her mother's voice. It moves her to go to Taiwan to visit the grandparents she never met.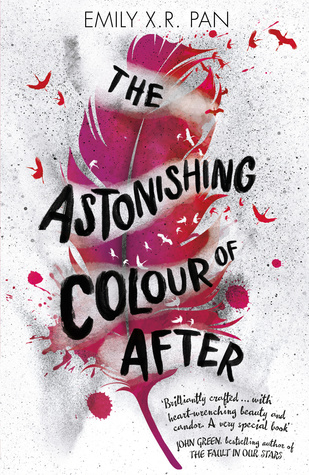 Once in Taiwan, she finds a set of magical incense. When each stick is lit, she is transported to a different memory connected to her mother's story: memories of her grandparents, of how her mother and father met, and of her own relationship with her best friend Axel. Leigh is an artist, and she sees the world and her experiences in a vivid melding of colors. Pan paints a breathtaking world that feels as if she brushed the words onto the page. I am amazed at her ability to combine art, writing, memory, and raw emotion.

It took me a while to read this book (I started in the summer of 2018 and finished in January 2019). It wasn't a difficult book to read. But it is a book that demands time to soak in beautiful writing and heavy emotion. There were times when I could have snuck in a few minutes to read this book here and there, but I wanted to give it the time it deserved.

Beautiful, poetic writing isn't something you see often in YA lit, a genre that is more devoted to fast-paced storylines and romances. But this one has a strong story and excellent writing. It even has a bit of romance for those of you who enjoy a good YA love story.

I loved every bit of this book.

Click here to check out this book on Amazon. Let me know what you think!