You Might Like This Book If You…
know someone who is young, free-spirited, and difficult to define or pin down,
have heard the call of the wild,
like nonfiction books in which the writer must do a bit of sleuthing in order to understand their subjects
The Story
After graduating from Emory University in 1990, Chris McCandless gave up everything in order to live the life he always dreamed of–wild and free, living off the land and his own resourcefulness. His journey took him from his Atlanta home to Arizona, California, Colorado, South Dakota, Oregon, Washington, Montana, and ultimately, Alaska, where he met his fate. In September 1992, McCandless's body was found in an abandoned bus in the Alaska interior.
Jon Krakauer follows McCandless's trail through his correspondences with the many people Chris befriended on his journey. This book is Krakauer's search for an answer: what led an honor student to live as a tramp and die of starvation, alone in the wild? His portrait of McCandless is not of a madman or an idiot, as many assume, but of a romantic and an intellectual who stole the heart of everyone he met, including the reader.
My Review
This book broke my heart. Someone very close to me is so, so much like Chris. I felt like I understood him better–but to a painful degree–through Krakauer's portrayal of Chris. I myself have felt that call to be alone, self-reliant, and in the wild. Chris felt like a kindred spirit to me. Every time Krakauer quoted Chris's postcards or journal entries, I felt like I knew this person. I know his heart. And I was crushed when I read how he died.
The fact that he died is not a secret in this book–it's written on the cover, in the introduction, and the subject of the first chapter. But that did not stop me from wishing that he lived with every turn of the page, that if I talked to the pages of the book, maybe he would handle things differently. Krakauer pieces together Chris's story through journal entries, postcards, and interviews with his friends and acquaintances in such a way that Chris not only becomes real, but someone you just want to save.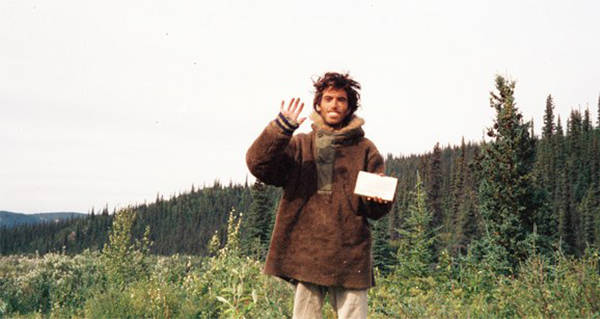 I wish my edition of the book had more pictures and maps. I was constantly Googling to see the pictures that Krakauer described. And then I would get sucked into how real Chris was, and my heart would break again. So… maybe it was a blessing that my book was so scarce in images. If you end up reading this book, this website has collected all the photographs that Krakauer mentions, shows scanned images of Chris's journal, and includes two videos of the bus itself.
I loved this book. My students ate it up. I highly recommend it — just get ready to have your emotions all over the place.